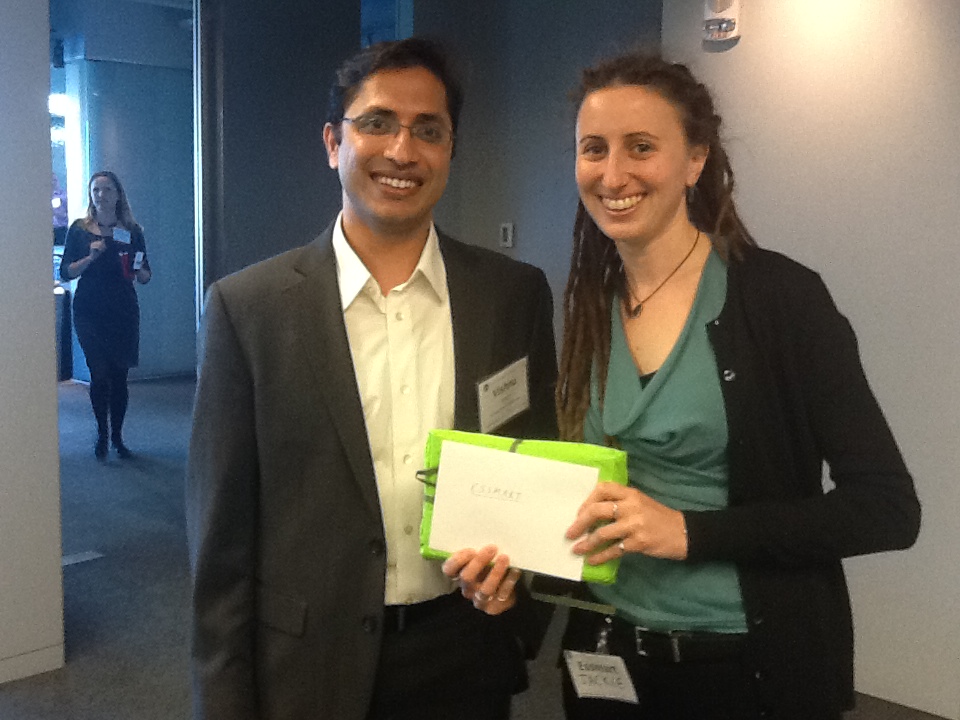 The past week or so has been quite busy for the Essmart team. We made it to the HBS Social Venture finals and had the opportunity to give a five-minute pitch in front of a great audience. Unfortunately, we didn't take home a prize. One of our semifinal round judges came up to us afterward and gave us a much-needed pep talk. She said that the semifinal judges loved the idea of Essmart and saw it bringing huge, sustainable impact to the Bottom of the Pyramid. Janet – if you're out there reading this, thank you very much for providing encouragement at just the right time.
On Friday, after a meeting with one of the HBS Social Venture winners and a quick pitching session with Bain Capital, we got to pitch at the MIT Sustainability Summit. It was a lot of fun. Jackie knows how to nail 60 second pitches, and she did a great job fielding the audience questions. In the end, through the texts of supporters in the audience, we took home the $500 cash prize! Awesome! Many thanks to the MIT Sustainability Summit for organizing the event.
On Monday night, we had had the opportunity to present our poster for the MIT IDEAS Global Challenge. Our four judges approached us early in the night. The conversation that unfolded was actually unexpected; IDEAS has traditionally been a competition celebrating innovation and community service. But the questions that were thrown at us all had to do with our financial model, which hadn't been included in full in our written submission. Taylor did a wonderful job fielding the tough questions, though. At the end of our interview, one of the judges joked with us by asking how we would choose the most entrepreneurial student project. Jackie bantered back by telling him to invest in the team, not the idea. Obviously, the team should demonstrate passion, know-how, and commitment. And obviously, that team is who now? 😛 We find out about the results on Thursday night.
And tonight, we had a great talk with someone who stumbled upon Essmart through our online content. He works for the World Bank and offered great insights about marketing at the village level. Suhail, thanks for your input, and we look forward to bouncing ideas off of you in the near future.