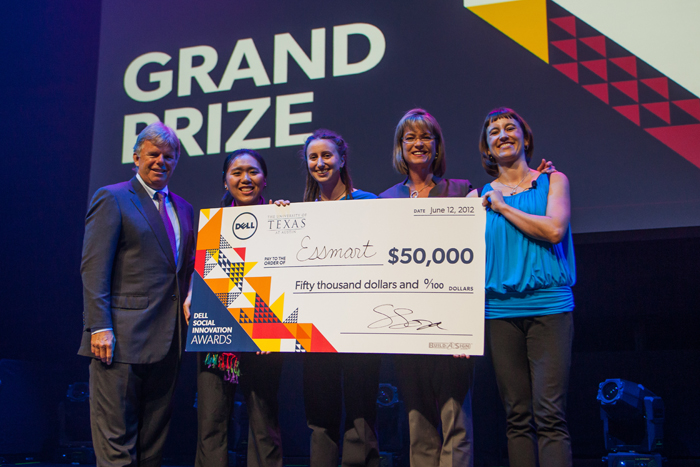 Essmart took home the grand prize at the Dell Social Innovation Awards ceremony! We were honestly surprised and deeply honored. There were so many incredible teams and projects this year, and being selected to receive the grand prize is a true privilege.
Winning the Dell Social Innovation Challenge (DSIC) means a lot to us. Of course, the $50,000 will go a long way in India, where we plan to launch this summer. We need to rent out warehouse space, hire our first sales agents, and purchase inventory to move into stores. However, the money is only a part of what DSIC has been able to offer Essmart. We are now forever part of an amazing family that supports us through their many connections and resources all around the world. For example, immediately after the awards ceremony, Deb Bauer, Dell's Director of Giving, put us in touch with Rajeev Kapoor, the Dell Finance Executive in southern India. It is partnerships like this one that will help us establish and grow Essmart as a sustainable company with scalable social impact.
This win also demonstrates that the problem of distribution – a traditionally "unsexy" idea in the field of international development – is rightfully gaining more attention. Many organizations have already created fantastic life-improving technologies. But if these technologies do not get into the hands of people who can benefit from them, then they are created in vain. Solving the problem of distribution will enable us to address many problems all at once, including lighting, clean water, breathable indoor spaces, and agricultural productivity. The distribution space requires much more innovation, which is what Essmart will practice through its on-the-ground operations.
Thank you again to the Dell Social Innovation Challenge (soon to be verb) family, Dell, and UT Austin for hosting an amazing experience. And thank you to our mentors, family, and friends who have supported Essmart since our humble beginnings. We are looking forward to this incredible journey ahead of us. This is just the beginning.