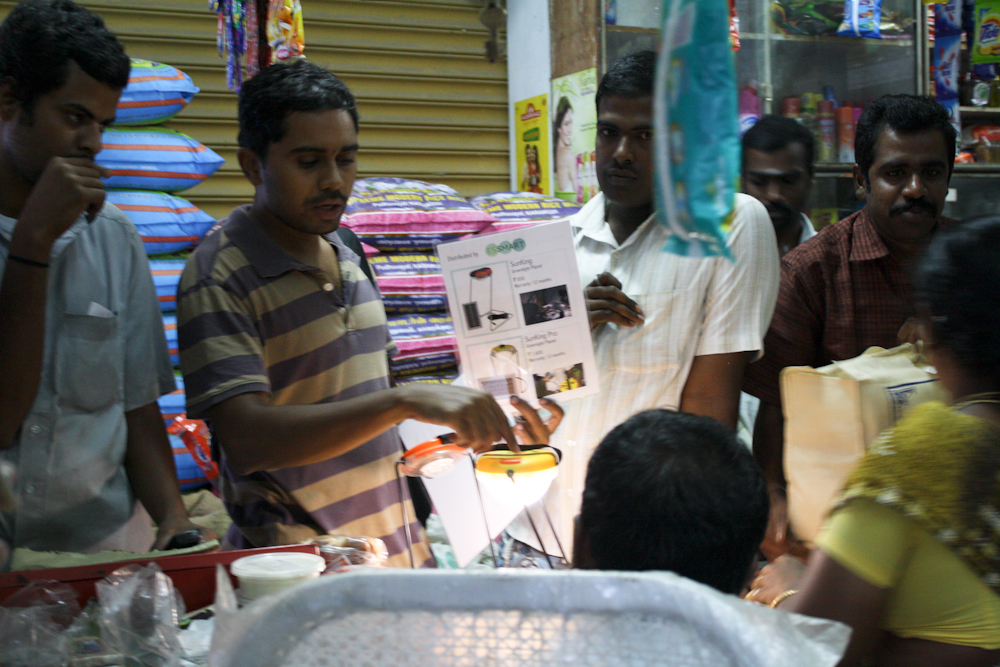 On Saturday afternoon, Selvan and I went on a motorbike ride through a few villages within a 15 km radius of Pollachi. We visited five shops, where Selvan got to test his skills as a salesman and we got to see how these new shop owners reacted to the prospects of being an Essmart retailer.
At each shop, Selvan introduced Essmart, gave them a brochure, and showed them our initial, very limited catalogue. We also brought a few demonstration products along, which is always more helpful than a photo. As a non-Tamil speaker, it was my job to assemble and show off the demo products. Aside from that, Selvan did all the hard work.
Overall, the visits felt pretty good. All shop owners said they were interested and took copies of our catalogue. There was one shop owner in particular who seemed to quickly understand our business proposal, and seemed convinced that his customers would buy the products as long as they're of a good quality. The rest of the shop owners showed varying degrees of engagement, but this could also have been become some of them were pretty busy with customers during our visit. Maybe we'll get a different vibe from them when we return.
We plan on re-visiting all of these shops tomorrow to check in with them. Some of the shop owners also had some good technical questions for us, and we'll be able to provide them with more detailed product specifications tomorrow. Our goal is to build strong relationships with 10-15 shop owners and verify all the different parts of our model over the next couple months before we begin to scale. These visits were the first step!