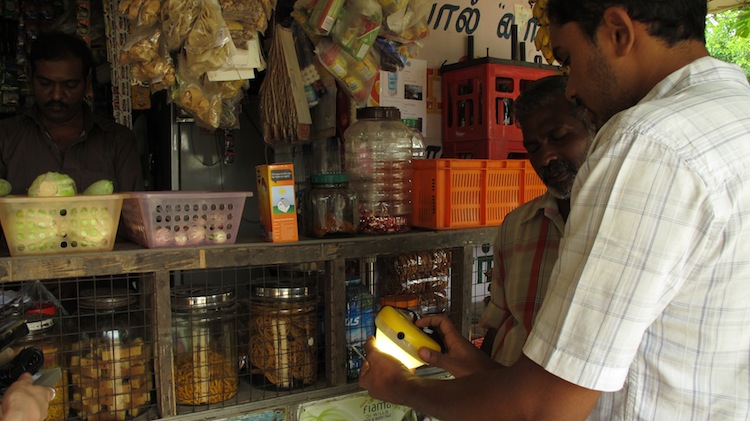 After finally getting a chance to see and interact with some of the rural retail outlets we are working with in Southern India and getting a better feel for both the logistical challenges and the market potential, I couldn't help but think of an article I read last February. In Innovations in Light, Tina Rosenberg writes about what occurs after product innovation.
As she points out, with so many people around the world working on the technological side of the problem, "technology is the easy part of solving the problem." Hundreds of affordable "essential" technologies have been created to address problems faced by people living at the base of the pyramid – largely devices focused on energy, water, and health issues.
The hard part comes when trying to inform and distribute innovative products to a new group of individuals who have little first hand experience with many of these devices, and who may be skeptical of the reliability of something they view as a large investment.  When our team visited our partner retailers, there was palpable interest in the glowing lamp charged by the sun, and people poked and prodded the lantern with interest.  While they were curious, they hesitated in immediately purchasing one until they knew more about its features and how durable it was, or better yet, until they talked to someone who already had one.  Since many large-scale distributors don't focus on villages because of logistical challenges, these rural communities have only periphery experience with the essential technologies we are promoting (like solar lanterns and water filters). And though many rural community members see the potential benefits of having an alternative light source when the electrical grid can go out three or four times in a day, they want to make an informed purchasing decision.
As Rosenberg reports, large-scale manufacturers like d.light and Barefoot Power (two companies who produce solar lighting devices) are trying to reach rural areas but are struggling to overcome logistical problems and warranty services – major problems if the company lacks a significant on-the-ground presence and struggles to build trust with local communities.  While trust is a major component of doing business all over the world, it is especially important in rural India, where business runs on connections and relationships.  By embedding ourselves in Pollachi and hiring local sales agents to grow these connections, we at Essmart are trying to circumvent some of the problems that large-scale manufactures have experienced in the past.  Since warranties are a major selling point but are also a complicated logistical hurdle, we are refining the warranty service to better establish trust with customers as we work with the local retail shops and receive direct feedback from end users. We plan to use that trust to promote the sale of life-changing technology.
While Essmart faces a number of obstacles in adequately informing our market, building trust, and overcoming logistical complications, the need for the products we have aggregated is enormous. It is exciting to be on the forefront of bringing new and affordable technology to the people who could benefit from it the most.  It will be difficult to overcome the complications that have inhibited others from reaching impactful scale in the past. However, if we can solve those problems, we can help achieve what these products were designed to accomplish – transforming the landscape for people living at the base of the pyramid.