From our monthly(ish) newsletter, which you can subscribe to here: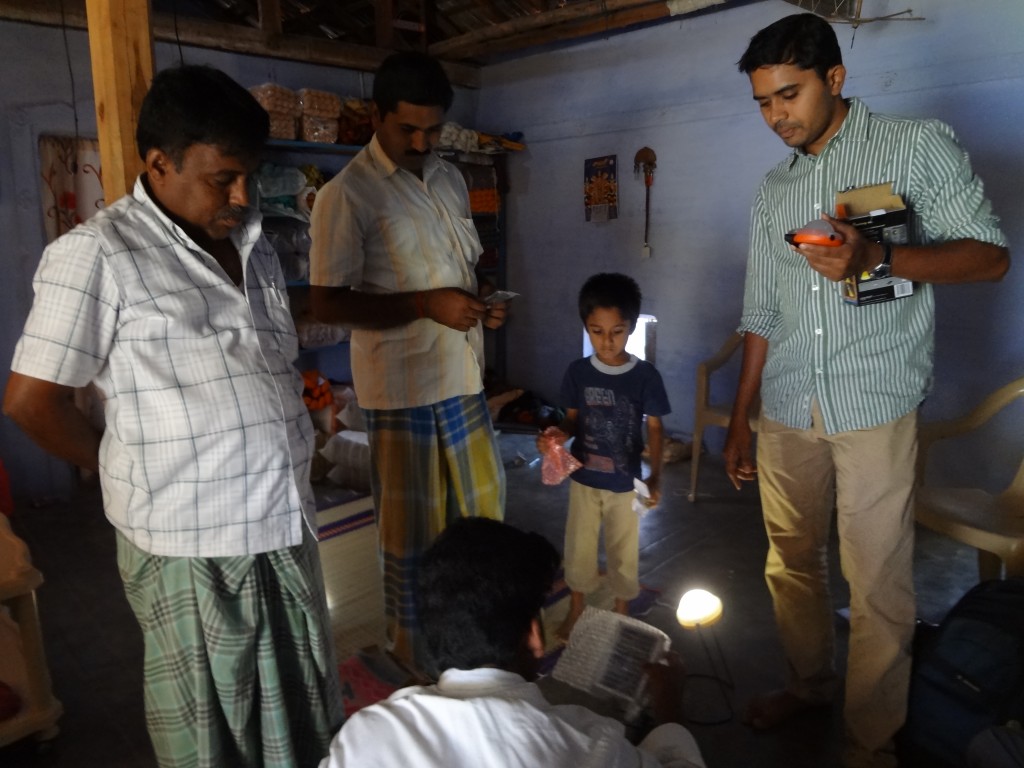 Greetings from India!
Essmart has been on the ground in Pollachi, Tamil Nadu, India for about two months now. Much has happened since our last email update. Selvan, our Director of Field Operations, has hired two sales executives, and they are working with 28 shops within a 20-kilometer radius of Pollachi. We now have six great products in our catalogue, which we're seeking to expand. We've sold over 100 units through our network and are in working relationships with our suppliers. We've finished incorporation in both the US and in India, and we're currently pursuing relationships with potential partners while meeting as many people as possible to talk with them about Essmart.
In early September, the Dell Social Innovation Challenge came to the Tata Institute of Social Sciences in Mumbai to host a workshop with Indian educators in the burgeoning field of social entrepreneurship. Diana had the opportunity to share our team's experiences of starting Essmart while we were still students, with the hope of encouraging Indian youngsters. After the workshop, Rob Hanna from Dell's Social Innovation Challenge and Dell's R&D Rajesh Navneetham visited our operations in Pollachi.
In late September, Diana participated in the Dasra Social Impact Program, an executive education program for leaders of nonprofits and social entrepreneurs working in India. Getting away from operations was helpful for reevaluating Essmart's work, and lessons from the Dasra Social Impact Program have already contributed to a renewed vision of who we are and what we do: making high-quality, innovative technologies available for every customer at their local shopping destinations.
In October, Selvan, Diana, and Essmart's sales executives participated in the Energy Showcase of the Dr Mahalingam College of Energy and Technology in Pollachi. We were graciously given a stall to display our process and our product catalogue, and Selvan has been solidifying himself as Pollachi's own "solar guy." Diana and Selvan will also participate in the upcoming Global Green Inclusive Innovation (G2i2) Summit to seek partnerships with other like-minded organizations.
Jackie and the US team have been presenting Essmart at events around Boston, including the MIT International Development Fair, the MIT India Conference, and the upcoming Forum for Social Entrepreneurs that is hosted by The Indus Entrepreneurs of Boston. Jackie also presented Essmart to the MIT Sloan MBA Entrepreneurship & Innovation class. The US-based team is currently putting its efforts toward fundraising.
Much has happened, and we're exciting to continue moving Essmart forward! Be sure to stay tuned as we put the world's essential technologies in every local shop.