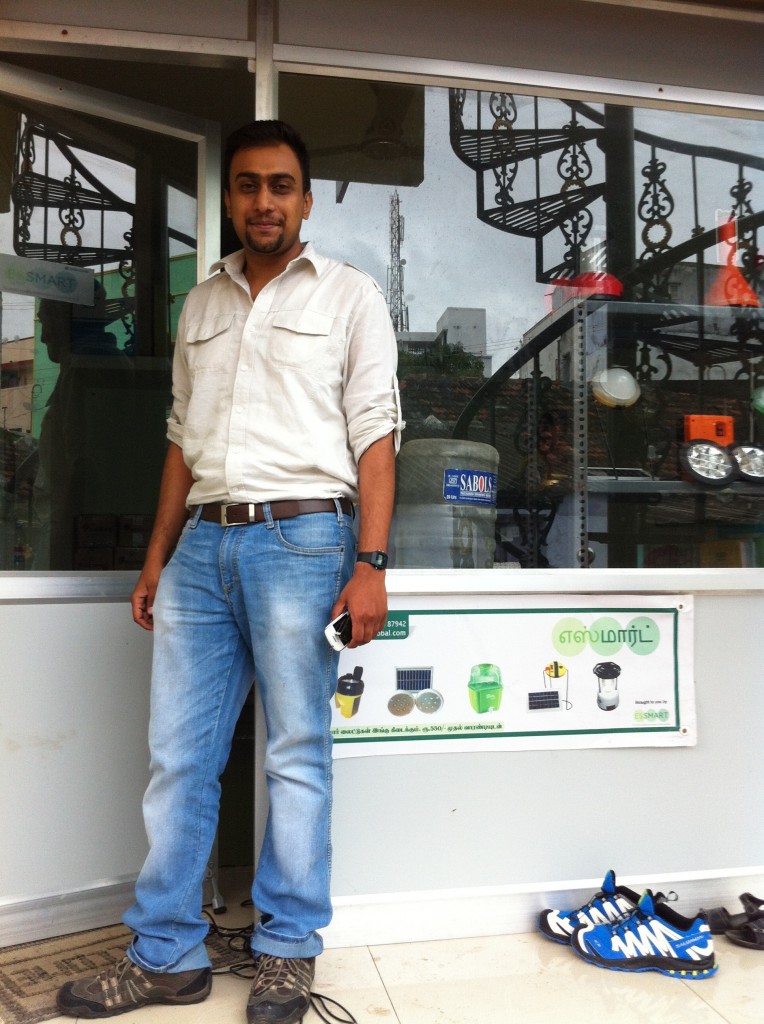 On July 1, Essmart officially gained a new member into our family. Friends, meet Prashanth, who will be leading Essmart's operations in India. You may have heard of Prashanth before, as he's been with us from Essmart's beginnings. However, we finally have the opportunity to work with him full time as we build Essmart into a reality. Prashanth adds his local knowledge of Tamilian culture and corporate experience to our work in distributing essential technologies.
Dani, our new Media Intern from Spain, sat down with Prashanth for a short interview.
Dani: So, Prashanth, tell a bit about yourself.
Prashanth: Well, to begin with I was born here in Coimbatore and actually have a fairly diverse background. My father is the Chief of Human Resources at Landmark Group, my mom is a psychological counselor and homemaker, and my older brother is a research scientist at the South Korean Atomic Energy Research Institute. I attended a private boarding school in Yercaud and have lived in very socially diverse settings right from my school days. After school, I went on to study mechanical engineering at Anna University in Chennai. After graduating, I got an offer to work at Saint Gobain, which is one of the largest glass manufacturers in the world. I started as an intern but progressed to becoming one of the main engineers designing the energy and structure calculations for buildings in western India.
In 2010, I received a scholarship to earn a Master's degree in Engineering for Sustainable Development at Cambridge University. While studying there, I met Jackie, who is one of Essmart's co-founders. I remember having many conversations with her, and I was particularly interested in her dissertation work on technology dissemination in rural and underserved communities.
After finishing my Master's degree, I rejoined Saint Gobain, where I was promoted to a more international role and was put in charge of seeking new opportunities for the company in the Middle East, Africa, and Asia. This was a huge step in my career because it helped me understand new cultures and identify new markets.
When Jackie and Diana decided to start Essmart, they immediately contacted me because of their interest in southern India and my interest in the same topic. I have been involved at the concept stage since nearly the beginning and helped carry out Essmart's first pilot in Pollachi in January 2012.
Dani: Who are some role models who have had an impact in your life?
Prashanth: There are a couple of people who I have and will always admire. One person is my granduncle, who was the Finance Minister of India and the Governor of Maharashtra. He is remembered today as the mastermind of India's Green Revolution. Through his life, I learned the importance of staying connected with your roots no matter how successful you are. Apart from my parents, the other person that has influenced me greatly is my grandfather on my father's side. He was the Chief of Police in Tamil Nadu. He is one of the reasons for why I would like to be involved in some type of public service in the future.
Dani: On a less serious note, what do you enjoy doing in your free time?
Prashanth: I used to play a lot of golf, but now I find myself playing tennis, swimming, or running when I find time. I read a lot of non-fiction, especially about South Asian history. I just finished reading a book by Shashi Tharoor, who was former United Nations Undersecretary General. I enjoy traveling and have been fortunate to visit 21 countries to date. Food is also a very important part of my life.

Dani: Is there any message you want to leave to our readers?
Prashanth: Yes. I have a dog called Sniper and he is very cute.