Hello Essmart Followers! I am Claire Patterson, a rising MIT junior studying mechanical engineering, and I am currently working as a MISTI India summer intern for Essmart. I arrived in Bangalore six weeks ago and hit the ground running from there. In my short time here, I have accompanied Diana to two different conferences where she was asked to speak about innovation, traveled to five of six of Essmart's distribution centers, shadowed sales executives on their daily product deliveries to shops and spent many days in Bangalore working on different tasks with the Essmart core team.
| | |
| --- | --- |
| | |
Essmart is unlike any company I have been exposed to. Despite having part of the team stationed across the globe in Boston (until Jackie arrived in Bangalore two weeks ago) and having a serious language barrier to overcome in field operations, everything is run efficiently with an amazing cyclical communication and decision-making style between the managers. It is truly an environment filled with trust, respect and a communal passion for product dissemination and the opportunities it creates.
If you can imagine the management team as the backbone of the company, the sales teams make up Essmart's heart. At each distribution site I visited I was met with smiles and people who were proud of the work they were doing. All the sales executives are on a Whatsapp group message where they send stories and photos of their daily triumphs. These stories, updates and photos are always met with support and words of motivation. In the Pollachi distribution center the team has written, "If you believe in yourself, things are possible" on its white board for daily encouragement. It is clear to me that Essmart is affecting the lives of more than the end users of their products but is also empowering their local sales workers to become agents of social change.
Last week while I was in Pollachi, Chandru, the Pollachi Facility Manager, invited me to his nephew's first birthday celebration. Along with many other members of Essmart team, I was welcomed into Chandru's family's home where we enjoyed a home cooked feast that has by far been my favorite meal in India. The hospitality of Chandru's family, friends and relatives was amazing. It was also really nice to spend an evening chatting with the Essmart team outside of the office, something that the local team seemed to do often.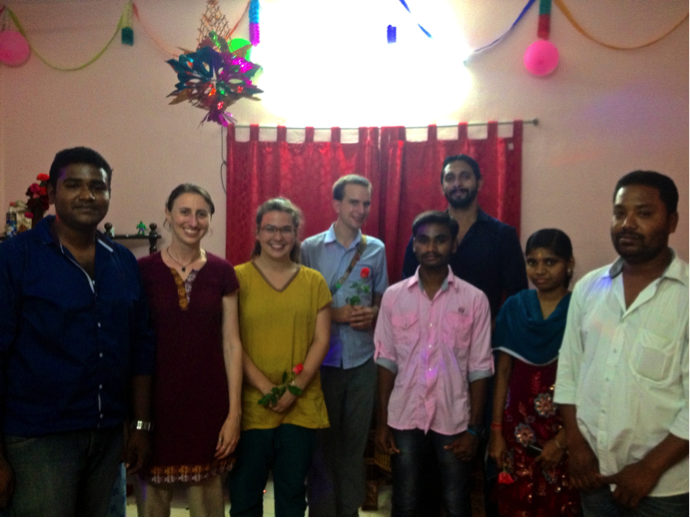 When I was not being invited to birthday celebrations or working in the office while I was in Tamil Nadu I had the chance to meet several end users of Essmart products. The first I met was a man who used the Chotokol cooler in his small stand to keep drinks cold for his customers. He gave a packet of peanuts that I initially tried to refuse but he insisted. They were delicious. In my next visit to Pollachi I visited a group of people who were not connected to the electricity grid. After dark, they use Essmart solar lanterns as the only source of light in their homes. When we arrived to check in on these families, it was already dark out, and we found one women cooking for her family, a task she was not able to do at night before she got the solar lanterns. From this, I realized that these products were so much more valuable than I had originally thought. These solar lights gave the inhabitants of this small area extra hours in the day, which is a priceless gift.
India offers its own set of unique challenges with power outages, transportation limitations, and a constant hunt for good Wifi, but these minor inconveniences do not compare to the amazing sense of accomplishment and fulfillment I have gained from my work here. When entering college, it was my goal to become an engineer who would not only understand the mechanics behind products I would create but also how they moved through a global economy and affected the lives of their users. And while I still have a lot to learn, I feel that my university has given me the tools to understand mechanics, but my work at Essmart has given me a first-hand view of the latter.